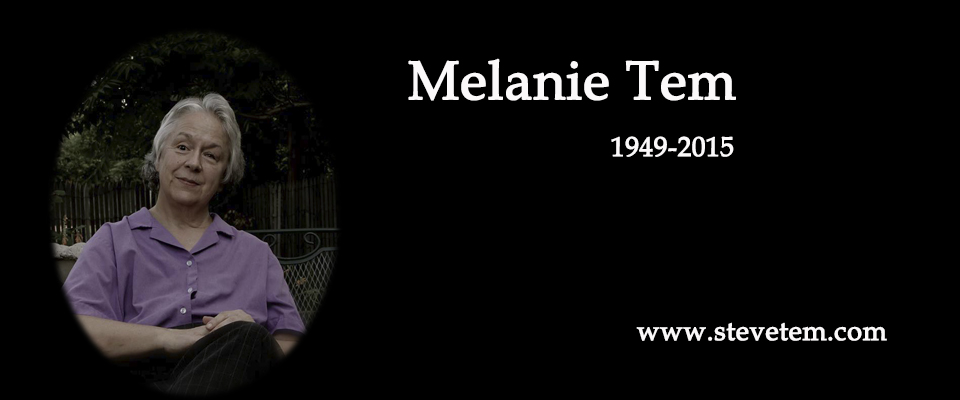 Latest News
 MAKING LOVE, the first novel collaboration between Melanie and Nancy Holder, is now available as an ebook. Smashwords ordering link:  https://www.smashwords.com/books/view/930391 Amazon ordering link:  https://www.amazon.com/dp/B07Q227DPX/ 
---
 WITCH-LIGHT, the 1996 novel collaboration between Melanie and Nancy Holder is now available as an ebook. Amazon ordering link
---
Four of Melanie's oral storytellings have been preserved as an album at the Bandcamp website as a free download.
---
Melanie's sold-out limited edition collection Singularity is now available as an affordable ebook from Crossroad Press. This volume collects her essential short fiction. Order from Amazon.
---
Did you know that Melanie has two posthumously published novels from Crossroad Press? Both Alden Mills: A Ruth Torgesson Mystery, and Out of the House of Darkness, a novel about alcoholism, are available as ebooks to order from the Crossroad Press Melanie Tem page.
---
For Melanie Tem Audiobooks, check out this listing on the Audible website.
---
Melanie's story "Dahlias" will be reprinted in The Best of Black Wings, edited by S.T. Joshi for PS Publishing.
---
Melanie's story "Lunch at Charon's" has been reprinted in The Mammoth Book of Vampire Stories by Women, ed. Stephen Jones, Skyhorse, 2017