eBooks
Several of Steve's recent books are available as ebooks from the publisher or from your favorite digital content provider. These books include Everything Is Fine Now, The Mask Shop of Doctor Blaack, Figures Unseen, Ubo, Blood Kin, Deadfall Hotel, Yours To Tell (co-written with Melanie Tem),Celestial Inventories, Onion Songs, Here With the Shadows, In the Lovecraft Museum, and Twember.
For example, see the Amazon Steve Rasnic Tem page.
There are also audiobook versions of some titles.
CELESTIAL INVENTORIES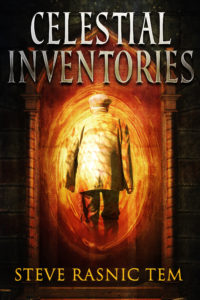 The Crossroads Press electronic edition is available for only $3.99. Celestial Inventories features twenty- two stories collected from rare chapbooks, anthologies, and obscure magazines, along with a new story written specifically for this volume. All represent the slipstream segment of Steve Rasnic Tem's large body of work. Several have previously appeared in Best of the Year compilations and have been the recipients of major F & SF nominations and awards. Among the transforming events in these twenty-two genre-bending stories: an office worker and his wife fade into a literal invisibility; a photographer discovers the unexpected in the faces of dead children; a girl moves onto a strange street when she fails to return from trick-or-treating; an artist devotes his career to contracting diseases; a plague of head explosions becomes a new form of terrorism; a couple's aging dismantles reality; and a seemingly pointless life finds final expression in bits of folded paper. "an impressive, confident collection." (Andrew Wilmot, BrokenPencil)
From Amazon: https://www.amazon.com/dp/B082LQ6Q2J/
From Smashwords: https://www.smashwords.com/books/view/994962
From Barnes & Noble for the Nook: https://www.barnesandnoble.com/w/celestial-inventories-steve-rasnic-tem/1114298703?ean=2940163195312
HERE WITH THE SHADOWS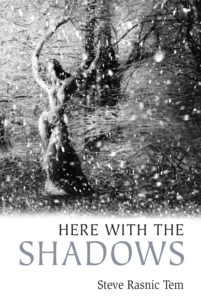 My 2014 ghostly collection HERE WITH THE SHADOWS is now available as an e-book. You can still get the beautiful hardcover from Swan River –http://swanriverpress.ie/shadows.html (or maybe you want both!). This is still a special book for me, inspired by those early 20th century British ghost story collections I love so much. It remains one of my most focused and coherent collections. Ordering links for the electronic edition in the comments.
"a volume of supernatural impressions and quiet vacancies, and in each story Tem reminds us that sometimes only a whisper separates us from the eternal."
"The lyrical quality of Tem's prose and his skill at finding the perfect metaphor for expressing the emotional states of his characters make these perfect gems of storytelling whose impact is like that of poetry." -Stefan Dziemianowicz, Locus
"Taken together, these stories demonstrate why a neglected, uncommercial literary discipline is important. As many have observed, all novels are flawed to some extent, but it is possibly to produce a perfect short story. Some of those perfect stories are here."-David Longhorn, Supernatural Tales
"Here with the Shadows, a collection of fifteen short stories, is a tour de force, not necessarily as a result of Tem's singular writing style, but because the volume plays beautifully—and hauntingly—with the theme of the ghost through the tropes of memory, physical space, and, quite literally, shadow."
-John Edgar Browning, Dead Reckonings
"This book is all good. But a number of stories are special, more than just good. Those stories as well as the whole book's gestalt itself represent a matchless literary experience to cherish for watchers of man's 'endless fall'."
-D.F. Lewis, Real-Time Reviews
Order from Smashwords.
Order from Amazon.
---
ONION SONGS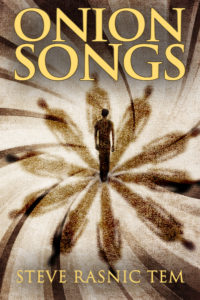 Steve's 2013 collection ONION SONGS has a new e-book edition (the only one available): 42 short stories (5 previously unpublished) with an emphasis on the bizarre, the absurd,  and the meditative, ranging from prose poetry vignettes to such unusual items as the text for his all-puppet theatrical, "The Mask Child."
"Tem lets his characters, their situations, and their emotions creep up slowly on the reader. His style is thoughtful and poetic, and the tension he builds effectively sustains well-crafted plots. He has found a perfect balance between the bizarre and the straight-forward…" — Publishers Weekly (starred review)
"Consistent in quality and diverse in content, as impressive as it is impressionistic… Onion Songs is the strongest collection of short stories that I've read in the last year. – Peter Tennant in Black Static
"The 42 stories in this collection showcase the often bizarre, always enlightening works of one of the most distinctive voices in imaginative literature. Tem's prose paints vivid and compelling images. His stories feature people who contemplate death, sanity, love, loss, and other human issues from original points of view." –Library Journal
Order from Amazon.
Order from Smashwords.
---
 THE HARVEST CHILD AND OTHER FANTASIES

THE HARVEST CHILD And Other Fantasies collects the wide range of Steve Rasnic Tem's fantasy tales for the first time. These 39 stories include sword & sorcery sagas, chronicles of fairies, elves, witches, wizards, magical creatures, Robin Hood, funny fantasy, and a smattering of science fantasy, as well as some uncollected dark fantasy tales which emphasize the fantasy over the horror. These fictions originally appeared in both major markets and hard-to-find small magazines. Just a sampling of sources: After Hours, Paradox, Asimov's, Dragon Magazine, Elsewhere, Infinite Loop, New Frontiers, Jabberwocky, Chrysalis, Grue, Mythellany, Fantasy Book, Extro, and Beneath Ceaseless Skies.
Order from Amazon.
Order from Smashwords.
Order from Barnes and Noble.
---
OUT OF THE DARK: A STORYBOOK OF HORRORS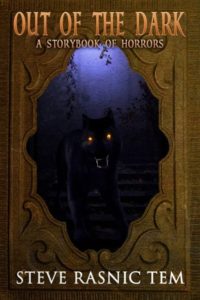 Available from Crossroad Press 
OUT OF THE DARK: A Storybook of Horrors features 73 of Steve Rasnic Tem's best uncollected horror stories, including 5 never before published tales. The collection is arranged like an old-fashioned children's storybook with such thematic sections as Old Monsters, Lovecraftian Denizens, Legends, Obsessions, Far Away Lands, Witch Magic, Creatures, Psychopathology, and Altered States.
---
ABSENT COMPANY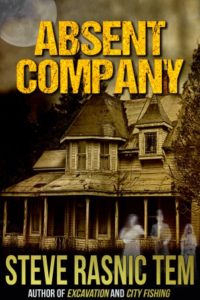 Available from Crossroad Press 
ABSENT COMPANY collects two of Steve Rasnic Tem's early books of ghostly, supernatural tales: the 33 stories in The Far Side of the Lake combined with his haunting exploration of the intersection of reality and delusion, the novelette Among the Living. "It's not uncommon to believe yourself awake when you are, in fact, sleeping. Far less common is to believe yourself sleeping when you are, in fact, awake."
One of the most prolific and respected voices in modern supernatural fiction, Tem's stories reveal the enduring power of the past over a seemingly safe present day world in which both real and imaginary horrors lurk along the edges of vision.
These books are hard to find except in expensive hardcover limited editions. ABSENT COMPANY is the only available source for the electronic editions of these tales.
Comments on some individual stories: "Crutches"–"an unforgettable surrealistic nightmare" — Washington Post Book World
"The Sky Come Down to Earth"–"No one has written so well of the inward spirit of the unwanted child since Shirley Jackson." — Stephen King
"Leaks"–winner of the British Fantasy Award
---
CITY FISHING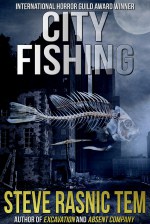 Available from Crossroad Press 
City Fishing is the long out of print short fiction collection by award-winning author Steve Rasnic Tem. This book collects 38 short stories drawn from the deep recesses of a very creative mind.
Nominated for the Bram Stoker Award
Winner, International Horror Guild Award, 2000
"The major collection his work has long deserved." — The Denver Post
"You're in for a treat!" — Douglas Clegg
"No critical analysis seems adequate to describe the twisted realities and unexpected terrors summoned by his fiction." — William P. Simmons, Horrorfind
"City Fishing constitutes a major work both in content and in sheer mass . . . While a master of nuance, Tem also knows when to achieve his desired effect through sheer, raw, power. There are moments when it's tempting to submit this author might be the world's most softspoken splatterpunk." — Ed Bryant, Locus
"These are new myths for the weird and dislocated times we live in . . . all [the stories] are excellent, and the best of them stand comparison with the best of any writer working in the field." — Steve Duffy, All Hallows
---
DAUGHTERS
(co-written with Melanie Tem)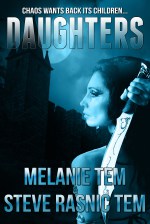 Available from Crossroad Press
Four diverse characters collide in an ancient world of darkness and magic: the amazon Gwynn, the princess Evonna, the wizard Alden, and the beast Thet. Out of that collision comes an unforgettable novel of endings and reconciliations, the death of magic and the birth of technology, and the eternal struggle between darkness and light.
Highborn Evonna is unhappy with her constricted choices and troubled by her brother Alden's dabblings in wizardry. In the great city that is her home, where nothing unplanned ever happens, something has gone terribly wrong. Everywhere are signs of chaos and creeping madness, rumors of plague, and intimations of worse to come. But what can Evonna or Alden do? The answer comes unexpectedly, with the terrifying visit of the subhuman Thet and the sudden appearance of the amazon Gwynn, who harbors a shocking secret. Together, the four unlikely companions bring unimagined change to the city… and are themselves changed in unimaginable ways.
---
EXCAVATION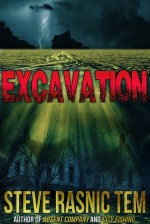 Available from Crossroad Press 
Archaeologist Reed Taylor is called back to his hometown of Simpson Creeks, Kentucky—a town devastated by the collapse of a coal waste dam—to dig into the earth now covering his family's old farm, and the bodies of his mother and father. But in a terrifying rendezvous with his own past he discovers that his memories of the dead are not only palpable, but capable of fantastic transformation. Bram Stoker Award finalist.
"Tem's extraordinary skill with words and images, as well as his tendency to write about the human qualities that really count, make this first novel a publishing event worth noting." — Twilight Zone Magazine
"The power of this novel flows from its coherence; it is constructed like a fine watch, and at the end, as the psyches of its guilt-ridden characters and the raging heart of its locale merge, Excavation attains a powerful, unusually moving climax." — Fantasy Review
Bram Stoker Award Nominee: First Novel
---
IN CONCERT
(co-written with Melanie Tem)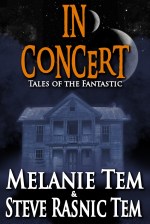 Available from Crossroad Press 
Steve Rasnic & Melanie Tem: In Concert collects the collaborative short fiction of Melanie Tem and Steve Rasnic Tem, who have worked at the cutting edge of imaginative fiction for over a quarter century. In the twenty-one tales herein, the reader will find fear, joy, and mystery. In Concert showcases the wide range of their collaborative work. The title story tells of a lonely elderly woman who achieves rapport with a lost astronaut through the power of music. In "The Icy Region My Heart Encircles," an aging Mary Shelley, creator of Frankenstein, keeps the heart of her late husband on the mantel and is haunted by her dead children and the living incarnation of her Monster. And in "The Man on the Ceiling," the authors take turns telling of the fears and darkness common to all families, while reminding the reader that "everything I tell you is true." The publication of In Concert is an event well worth celebrating.
Also available as an audio book
---
THE BOOK OF DAYS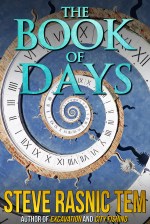 Available from Crossroad Press 
The author's second novel, The Book of Days consists of a short story told each day by a man trying to talk himself back to sanity. A kind of literary sampler quilt, these daily inventions emulate the styles of everything from traditional ghost stories to the works of O'Henry and James Whitcomb Riley, from westerns to fifties science fiction to boy's own adventure stories. As a sequence illustrating the narrator's deep internal struggle, these dark stories take on additional weight, making each one a sharp shock that builds to an electrifying whole.
"The traditional book of days, filled with readings commemorating each day's historical significance, provides a structure for this reflective fantasia on a father's love of family and despair at the challenges of parenthood. In a brief introduction, Tem (City Fishing) introduces Cal, a man so distraught at life's risks and the natural vulnerability of his children that he abandons them for his childhood home where, alone with his thoughts and $300 worth of calendars, he endures dark days and nights of the soul extending nearly seven months. Cal's attempts to come to terms with his fears yield a daily succession of diary-type entries in which one or more historical events specific to the day shape his meditations. For some days the connections are obvious: September 17, the birthday of William Carlos Williams, inspires a perfect pastiche of the poet's spare verse in which children fill the sandbox of the world with their play. Other days forge more oblique connections: on December 5, the date of Mozart's death and Walt Disney's birth, Cal poignantly compares children to prodigies and cartoon characters, "brilliant and dazzling and colorful and full of pain." Though some entries stray from the book's theme, all showcase Tem's poetic skill at grounding abstract ideas and volatile emotions in perfectly polished metaphors and images judiciously distilled from literature, history, dark fantasy and popular culture. Not quite a novel or a story collection, this contemplative odyssey is easily one of the more risk-taking and rewarding books of fantasy published this year." – Publishers Weekly
Also available as an Audiobook
---
THE MAN ON THE CEILING
(co-written with Melanie Tem)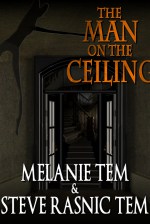 Available from Crossroad Press 
Two interwoven memoirs of love, loss, and family with a haunted, frightening edge.
In 2000, American Fantasy Press published an unassuming chapbook titled The Man on the Ceiling. Inside was a dark, surreal, discomfiting story of the horrors that can befall a family. It was so powerful that it won the Bram Stoker Award, International Horror Guild Award, and World Fantasy Award–the only work ever to win all three. Now, Melanie Tem and Steve Rasnic Tem have re-imagined the story, expanding on the ideas to create a compelling work that examines how people find a family, how they hold a family together despite incomprehensible tragedy, and how, in the end, they find love.
Loosely autobiographical, The Man on the Ceiling has the feel of a family portrait painted by Salvador Dali, where story and reality blend to find the one thing that neither can offer alone: truth.
"Joining their voices in The Man on the Ceiling, the Tems have composed a chorus that is at once incredibly frightening, ineffably sweet, and absolutely unforgettable." – Dam Simmons
Shirley Jackson Award finalist.