Audio
Be sure to visit the Steve Rasnic Tem page at Audible for more audiobooks!
---
THANATRAUMA AUDIOBOOK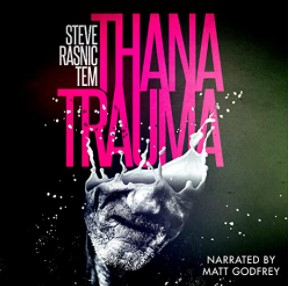 Unabridged narration by Matt Godfrey.
"All my life I've dreamed of the dead."
Thanatrauma: the dread of it erodes you, the shadows waiting at the end, the impending conclusion, the troubling dream from which you will not wake.
These 21 stories – four published here for the first time – explore some of our fundamental fears: death, loss, grief, and aging. In "Reflections in Black", a man takes a phantasmagoric Halloween journey in search of a former love. In "The Parts Man", a man enters a desperate contract with a sinister entity in a long, vintage automobile. The darkly beautiful "The Dead Outside My Door" is a haunting post-apocalyptic tale unlike any you've ever experienced.
Other offerings include "Whatever You Want", in which a Christmas wish has terrible consequences; "Torn", a bizarre vision of a highly personalized hell; and "The Way Station", a tribute to the legendary Stefan Grabinski. Also featured is a special bonus, "August Freeze", from the lost, undistributed winter 1985 issue of Weird Tales.
---
DEADFALL HOTEL AUDIOBOOK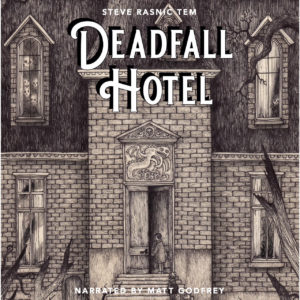 Unabridged narration by Matt Godfrey. Cover art by John Kenn Mortensen
AVAILABLE NOW from Audible, Amazon, and iTunes: Deadfall Hotel audiobook by Steve Rasnic Tem. The Deadfall Hotel is where our nightmares go, it's where the dead pause to rest between worlds, and it's where Richard Carter and his daughter Serena go to rediscover life — if the things at the hotel don't kill them first. Think of it as the vacation resort of the collective unconscious.
With the powerful prose that has earned him awards and accolades, Steve Rasnic Tem explores the roots of fear and society's fascination with things horrific, using the many-layered metaphor of the Deadfall Hotel. Drawing inspiration from literary touchstones John Gardner and Peter Straub, Tem elegantly delves into the dark corners of the human spirit. There he finds not only our fears, but ultimately our hopes.
Amazon US      Amazon UK     Audible      iTunes
---
THE BOOK OF DAYS AUDIOBOOK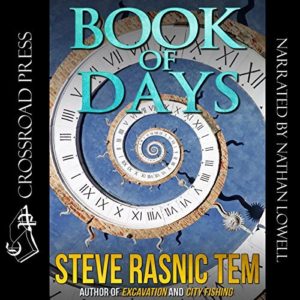 Narrated by: Nathan Lowell
Length: 2 hrs and 56 mins
Unabridged
Release date: 04-06-16
Language: English
Publisher: Crossroad Press
The author's second novel, The Book of Days, consists of a short story told each day by a man trying to talk himself back to sanity. A kind of literary sampler quilt, these daily inventions emulate the styles of everything from traditional ghost stories to the works of O'Henry and James Whitcomb Riley, from westerns to 50s' science-fiction to boy's own adventure stories. As a sequence illustrating the narrator's deep internal struggle, these dark stories take on additional weight, making each one a sharp shock that builds to an electrifying whole.
Or order from Crossroad Press.
---
IN CONCERT AUDIOBOOK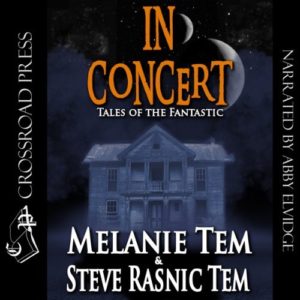 Narrated by: Abby Elvidge
Length: 15 hrs and 10 mins
Unabridged
Release date: 09-19-13
Language: English
Publisher: Crossroad Press
In Concert collects the collaborative short fiction of Melanie Tem and Steve Rasnic Tem, who have worked at the cutting edge of imaginative fiction for over a quarter century. In the twenty-one tales herein, the reader will find fear, joy, and mystery. In Concert showcases the wide range of their collaborative work. The title story tells of a lonely elderly woman who achieves rapport with a lost astronaut through the power of music.
In "The Icy Region My Heart Encircles," an aging Mary Shelley, creator of Frankenstein, keeps the heart of her late husband on the mantel and is haunted by her dead children and the living incarnation of her Monster. And in "The Man on the Ceiling," the authors take turns telling of the fears and darkness common to all families, while reminding the reader that "everything I tell you is true." The publication of In Concert is an event well worth celebrating.
Listeners have described the narrative performance of this book as: "Superbly narrated," "Terrific reading of fascinating stories," "stirring and mesmerizing," and "Entertaining, a lot of fun."
Or order from Crossroad Press.
---
FIGURES UNSEEN AUDIOBOOK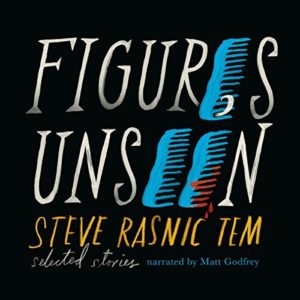 Narrated by: Matt Godfrey
Length: 12 hours and 37 minutes
Unabridged
Release Date: 03-28-18
Language: English
Publisher: Valancourt Books
In the worlds of Steve Rasnic Tem, a father takes his son "fishing" in the deepest part of downtown, flayed rabbits visit a suburban back yard, a man is haunted by a surrealistic nightmare of crutches, a father is unable to rescue his son from a nightmare of trees, a bereaved man transforms memories of his wife into performance art, great moving cliffs of detritus randomly prowl the world, a seemingly pointless life finds final expression in bits of folded paper, a nuclear holocaust brings about a new mythology, an isolated man discovers he's part of a terrifying community, a photographer discovers the unexpected in the faces of dead children, and a couple's aging dismantles reality.
Winner of the World Fantasy, British Fantasy, and Bram Stoker Awards, Tem has earned a reputation as one of the finest and most original short fiction writers of our time, blending elements of horror, dark fantasy, science fiction, and surreal nightmare into a genre uniquely his own. This new volume collects for the first time 35 of Tem's best tales, selected by the author, and includes an introduction by Simon Strantzas.
"Simply Outstanding!" – Char's Horror Corner