Featured
THE NIGHT DOCTOR
And Other Tales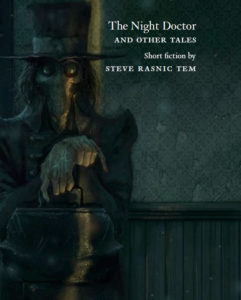 THE NIGHT DOCTOR AND OTHER TALES Steve's brand new collection from Centipede Press is on sale now. 25 stories including 2 originals. 336 pages, ribbon marker, handsome signature page, and attractive dustjacket by artist Gary Laib.  Purchase here: http://www.centipedepress.com/horror/nightdoctor.html
You can view a YouTube video of Steve reading the title story here.
Publishers Weekly starred review: "'Sometimes it takes all our effort to keep the anxiety of simply being human at bay' … Tem treads a fine line between the weird and the horrific in these stories, and they are memorable for their subtle power and insidious eeriness. This haunting collection is the perfect Halloween accompaniment."
John Boden at Ginger Nuts of Horror: "Every story in this collection is marvelous. All of them emotionally heavy and steeped in themes of loss, regret, grief (triple helpings on that one) and despair. All painted in lush realistically thick strokes and colors. All of them masterpieces."
Char's Horror Corner: "yet another excellent collection from the outstanding literary mind of Steve Rasnic Tem. Let him invite you – entice you, even -but don't expect to get too comfortable settling in, because the specialty here is exactly the opposite: UNSETTLING! My highest recommendation-especially to fans of the weird tales!"
About Steve
STEVE RASNIC TEM's short fiction has been compared to the work of Franz Kafka, Dino Buzzati, Ray Bradbury, and Raymond Carver, but to quote Joe R. Lansdale: "Steve Rasnic Tem is a school of writing unto himself." His 400 plus published stories, twelve collections, and seven novels have garnered him the British Fantasy Award, the World Fantasy Award, two International Horror Guild Awards, and four Bram Stoker Awards.
Sources for UBO
Instagram Feed