A few words about Climate Change …
Much of my fiction is about the terrible things people have to deal with, subjects which we try to avoid thinking or talking about. Maybe they're too depressing to contemplate, or just too large and complicated to comprehend. One of those large subjects troubling me most in recent years is climate change and our lack of serious effort to do anything about it. In fact, sometimes it seems the more frantic the alarm bells over climate change become, the slower our governments are to respond. But there are things we as individuals can do. We can take responsibility for our part in this. An organization that embodies and empowers this individual effort is 2020orBust. Download their free app and do your part. Donate to help fund their efforts. This new page on my website is devoted to 2020 and other organizations trying to do something about climate change.

The 2020 or Bust App
2020's mission is to wake people up to the importance of the next three years for climate change and to empower ordinary folks with an opportunity to collaborate worldwide as they lower their carbon footprint. Anyone may download 2020's free app for Apple or Android devices which allows you to track your progress with specific carbon-saving actions and compare your results with users worldwide. The actions the app allows you to choose from are both creative and inspiring: add meatless meals to your week, invest in renewable energy, recycle, stop using plastic, limit your microfiber waste, plant native wildflowers, contact your local congressional representatives, etc. Do your part to restore our climate.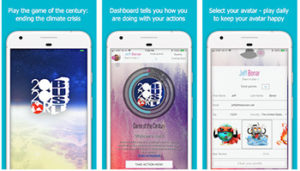 ---
Download the 2020 or Bust app from the Apple App Store or the Google Play store for Android devices.
Free Climate Fiction
Miguel Prays While His Mother Cries
The blessed truck would arrive at midnight to carry them out of Phoenix. Each day Miquel prayed to the Virgin for her forgiveness: for hiding in the basement of this house he did not own, for dragging his own mother out of her home while Guatemala burned, for promising that life would be better here, for hiring that coyote to take them into an abandoned city whose summer temperatures averaged over 150 degrees, for not stopping el diablo when he opened the door and dumped them onto the melting asphalt, for not insisting that his mother wear gloves, or shoes.
End
Originally published August 8th, 2019 in Daily Science Fiction
Read Steve's other free work on the Free Fiction page.
Climate Change News
A Christmas Message from Steve
Bill Nye Gets Straight To the Point
I just watched COWSPIRACY on Netflix, all about livestock agriculture (and why it's simply not sustainable over time). As a long time meat-eater, it's given me a lot to think about regarding how my diet is contributing to climate change. Cowspiracy on Netflix.
read more