Welcome!
Welcome to my website. Here you can read about my latest writings and activities, see some pictures, access my bibliography, contact me, or order books, ebooks, and audiobooks via the links provided on those pages. A link in the top menu takes you to a special section about Melanie Tem and her work. Click the magnifying glass in the upper right corner to search for anything on the web site. Be sure to take a look at my new Climate Change page. Also check out my Facebook, Twitter, Instagram, and Pinterest pages, as well as view some YouTube videos, by clicking these blue links, the buttons below, or the links in the right-hand vertical bar on interior pages.
You can now subscribe to the Steve Rasnic Tem YouTube Channel here.
For information about the Steve & Melanie Tem Collection at Texas A&M click here.
Biography
"His work…will haunt your imagination and your heart in equal measure, and it both expands and defines the genre. " Adam Mills, Weird Fiction Review
Steve Rasnic Tem's writing career spans over 40 years, including poetry, plays, short stories, and novels in the genres of fantasy, science fiction, horror, crime, regional fiction set in the Appalachian South, as well as a less-classifiable imaginative prose more than one critic has called "Temism." His collaborative novella with his late wife Melanie Tem, The Man On The Ceiling, won the World Fantasy, Bram Stoker, and International Horror Guild awards in 2001. He has also won the Bram Stoker, International Horror Guild, and British Fantasy Awards for his solo work. His recent novel UBO (Solaris, January 2017) is a dark science fictional tale about violence and its origins, featuring such historical viewpoint characters as Jack the Ripper, Stalin, and Heinrich Himmler. Steve's southern gothic novel Blood Kin (Solaris, March 2014), won the 2014 Bram Stoker Award. His other novels are  his YA The Mask Shop  of Doctor Blaack  (Hex, 2018), Deadfall Hotel (Solaris, 2012), The Man On The Ceiling (Wizards of the Coast Discoveries, 2008, written with Melanie Tem as an expansion of their novella), The Book of Days (Subterranean, 2002), Daughters (Grand Central, 2001, also written with Melanie Tem), and Excavation (Avon, 1987). A handbook on writing, Yours to Tell: Dialogues on the Art & Practice of Fiction, also written with Melanie, appeared in 2017 from Apex Books.
Steve has published over 450 short stories. His first collection of stories, Ombres sur la Route, was published by the French publisher Denoël in 1994. His first English language collection, City Fishing (Silver Salamander, 2000) won the International Horror Guild Award. His other story collections are The Far Side of the Lake (Ash Tree, 2001), In Concert (Centipede, 2010-collaborations with Melanie Tem), Ugly Behavior (New Pulp, 2012-noir fiction), Onion Songs (Chomu, 2013), Celestial Inventories (ChiZine, 2013), Twember (NewCon, 2013-science fiction), Here With The Shadows (Swan River Press, 2014), the giant 72-story treasury, Out of the Dark: A Storybook of Horrors, (Centipede Press), Figures Unseen: Selected Stories (Valancourt, 2018), The Harvest Child And Other Fantasies (Crossroads, 2018), the YA-oriented Everything Is Fine Now (Omnium Gatherum, 2019), and The Night Doctor and Other Tales (Centipede, 2019).
A transplanted Southerner from Lee County Virginia, Steve is a long-time resident of Colorado. He has a BA in English Education from VPI and a MA in Creative Writing from Colorado State, where he studied fiction under Warren Fine and poetry under Bill Tremblay.
Free Fiction
A young man slowly surrenders his senses in "Bees from the Hive," a tale of the strangely dependent and manipulative relationship of three friends. Read for free at:  http://stevetem.com/free-fiction/
"Late Sleepers," PseudoPod #733
"Forwarded," The Dark Magazine, January 2020
"The Family Man," Paper Butterfly Flash Fiction, October 2019
"For All His Eyes Can See," The Dark,  August 2018
"Miguel Prays While His Mother Cries," Daily Science Fiction, 8/8/2019
"Night Vision," Daily Science Fiction, 4/16/2019
"Red Rabbit," Borderlands # 6 (reprinted in Figures Unseen)
"The Men and Women of Rivendale," Nightmare #35.
"A Space of One's Own," Clarkesworld #141, June 2018.
"Cats, Dogs, & Other Creatures," Talebones.
---
See a complete list of free fiction on the Free Fiction page.
Latest Books
FIGURES UNSEEN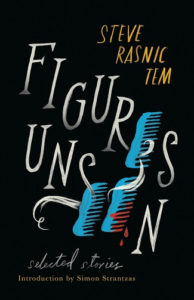 Winner of the World Fantasy, British Fantasy and Bram Stoker Awards, Steve Rasnic Tem has earned a reputation as one of the finest and most original short fiction writers of our time, blending elements of horror, dark fantasy, science fiction and surreal nightmare into a genre uniquely his own. This new volume collects for the first time thirty-five of Tem's best tales, selected by the author, and includes an introduction by Simon Strantzas.  "His writing deftly weaves together fantasy, horror, science fiction, and surrealistic weirdness into tales that are both frightening and beautiful … Consider this collection a must-read for aficionados of the surreal." Maria Haskins, Barnes & Noble Blog.
"It's a masterful collection. Story after story grabs you from the first sentence or image, shoehorns you effortlessly into familiar places you've never been, allows you into another life as it's coming apart or, perhaps, just coming to rest. These are sensuous tales, with gorgeously worked language and cadences. They breathe. Their hearts beat soundly beneath your own…The stories of Figures Unseen shimmer with beauty, with felt reality, and with the mysteries forever at the heart of all our lives." – James Sallis, The Magazine of Fantasy & Science Fiction
---
THE HARVEST CHILD AND OTHER FANTASIES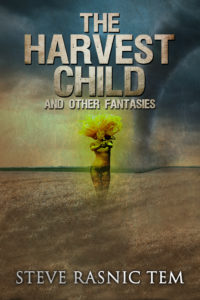 THE HARVEST CHILD And Other Fantasies is a massive collection of the wide range of Steve Rasnic Tem's fantasy tales. These 39 stories include sword & sorcery sagas, chronicles of fairies, elves, witches, wizards, magical creatures, Robin Hood, funny fantasy, and a smattering of science fantasy, as well as some uncollected dark fantasy tales which emphasize the fantasy over the horror. None have appeared in his previous collections. These fictions originally appeared in both major markets and hard-to-find small magazines. Just a sampling of sources: After Hours, Paradox, Asimov's, Dragon Magazine, Elsewhere, Infinite Loop, New Frontiers, Jabberwocky, Chrysalis, Grue, Mythellany, Fantasy Book, Extro, and Beneath Ceaseless Skies.
Order the paperback from Amazon.
Order the ebook from Amazon.
Order from Smashwords.
Order from Barnes and Noble.
---
 YOURS TO TELL:
Dialogues on the Art & Practice of Writing
(co-written with Melanie Tem)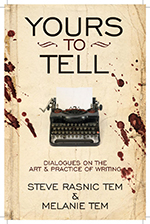 Steve Rasnic Tem and Melanie Tem are no strangers to the writing business. Between the two of them, they have published more than 600 short stories, 20 novels, and 10 short story collections. Not to mention numerous articles, essays, poems, and plays. They've won the World Fantasy Award, British Fantasy Award, and Bram Stoker Award. In this book they go over everything from the mechanics of writing, to how to find the time to write, to dealing with all the paper writers tend to collect. They discuss plot, point of view, setting, characterization, and more, all in an informal tone that invites you to become part of their conversation. Learn how to find your stories because they are Yours to Tell.
Order from Apex Book Company. 
---
CELESTIAL INVENTORIES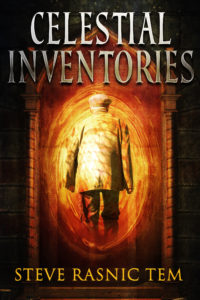 The electronic version of my CZP collection CELESTIAL INVENTORIES has been removed from sale and there is now a new version from Crossroads Press for only $3.99. Celestial Inventories features twenty- two stories collected from rare chapbooks, anthologies, and obscure magazines, along with a new story written specifically for this volume. All represent the slipstream segment of Steve Rasnic Tem's large body of work. Several have previously appeared in Best of the Year compilations and have been the recipients of major F & SF nominations and awards. Among the transforming events in these twenty-two genre-bending stories: an office worker and his wife fade into a literal invisibility; a photographer discovers the unexpected in the faces of dead children; a girl moves onto a strange street when she fails to return from trick-or-treating; an artist devotes his career to contracting diseases; a plague of head explosions becomes a new form of terrorism; a couple's aging dismantles reality; and a seemingly pointless life finds final expression in bits of folded paper. "an impressive, confident collection." (Andrew Wilmot, BrokenPencil)
From Amazon: https://www.amazon.com/dp/B082LQ6Q2J/
From Smashwords: https://www.smashwords.com/books/view/994962
From Barnes & Noble for the Nook: https://www.barnesandnoble.com/w/celestial-inventories-steve-rasnic-tem/1114298703?ean=2940163195312
---
THE YELLOW WOOD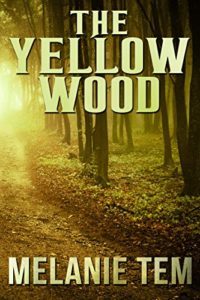 Melanie's final novel The Yellow Wood has a new electronic edition from Crossroads Press for only $3.99. Publisher's Weekly: "beautifully exploits the fine line between merely weird and genuinely unnatural." TOR.COM: "If The Yellow Wood is a tightly-written and morally complex novel, it is also unexpectedly suspenseful. The emotional tension is perfectly balanced; Tem has created a book that's harder to set down than a thriller." https://www.amazon.com/dp/B0829PYCFL/
And for the Nook: https://www.barnesandnoble.com/w/the-yellow-wood-melanie-tem/1013744973
---
THIS CHILD IS MINE
What It Means To Adopt a Child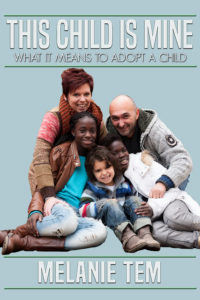 A few of you may know that for many years my late wife Melanie was a social worker specializing in adoptions. She wrote and spoke passionately about the subject. At last these writings have been gathered into an e-book–THIS CHILD IS MINE: What It Means to Adopt a Child. "Essential reading for those currently adopting a child, thinking about adopting a child, or simply interested in the subjects of adoption and parenting older children, this concise handbook provides a unique perspective on the difficult and wonderful adventure of parenting older children."
She offers a way of looking at the adoption and parenting processes that is both simple and radically different from the norm. Central to her writings is the act of claiming, the process by which a parent says, once and for all, "This is my child."
(Writers will be particularly interested in the chapter on power and developmental stages and their effects on behavior.)
Order from Smashwords.
Order from Amazon.
---
HERE WITH THE SHADOWS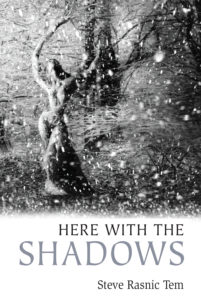 My 2014 ghostly collection HERE WITH THE SHADOWS is now available as an e-book. You can still get the beautiful hardcover from Swan River –http://swanriverpress.ie/shadows.html (or maybe you want both!). This is still a special book for me, inspired by those early 20th century British ghost story collections I love so much. It remains one of my most focused and coherent collections. Ordering links for the electronic edition in the comments.
"a volume of supernatural impressions and quiet vacancies, and in each story Tem reminds us that sometimes only a whisper separates us from the eternal."
"The lyrical quality of Tem's prose and his skill at finding the perfect metaphor for expressing the emotional states of his characters make these perfect gems of storytelling whose impact is like that of poetry." -Stefan Dziemianowicz, Locus
"Taken together, these stories demonstrate why a neglected, uncommercial literary discipline is important. As many have observed, all novels are flawed to some extent, but it is possibly to produce a perfect short story. Some of those perfect stories are here."-David Longhorn, Supernatural Tales
"Here with the Shadows, a collection of fifteen short stories, is a tour de force, not necessarily as a result of Tem's singular writing style, but because the volume plays beautifully—and hauntingly—with the theme of the ghost through the tropes of memory, physical space, and, quite literally, shadow."
-John Edgar Browning, Dead Reckonings
"This book is all good. But a number of stories are special, more than just good. Those stories as well as the whole book's gestalt itself represent a matchless literary experience to cherish for watchers of man's 'endless fall'."
-D.F. Lewis, Real-Time Reviews
Order from Smashwords.
Order from Amazon.
---
  ONION SONGS
Steve's 2013 collection ONION SONGS has a new e-book edition (the only one available): 42 short stories (5 previously unpublished) with an emphasis on the bizarre, the absurd,  and the meditative, ranging from prose poetry vignettes to such unusual items as the text for his all-puppet theatrical, "The Mask Child."
"Tem lets his characters, their situations, and their emotions creep up slowly on the reader. His style is thoughtful and poetic, and the tension he builds effectively sustains well-crafted plots. He has found a perfect balance between the bizarre and the straight-forward…" — Publishers Weekly (starred review)
"Consistent in quality and diverse in content, as impressive as it is impressionistic… Onion Songs is the strongest collection of short stories that I've read in the last year. – Peter Tennant in Black Static
"The 42 stories in this collection showcase the often bizarre, always enlightening works of one of the most distinctive voices in imaginative literature. Tem's prose paints vivid and compelling images. His stories feature people who contemplate death, sanity, love, loss, and other human issues from original points of view." –Library Journal
Order from Amazon.
Order from Smashwords.
---
  EVERYTHING IS FINE NOW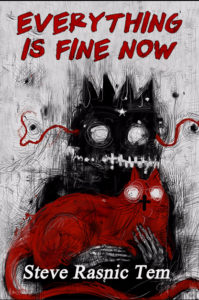 In this new collection award-winning horror author Steve Rasnic Tem showcases a variety of ghosts and other creatures aiming to keep you up all night with the lights on. Read about the two best friends chased by a strangely familiar figure. Or the teenager who woke up one morning with fur sprouting from every nook and cranny on his body. Or the fellow from a poor family who has to take care of both his little sister and his crazy mom whose magical powers only make things worse. Or an old man who finally tells his grandson the terrible thing that makes their crops grow. Or the mechanic who keeps his cars running on oil, gasoline, blood, and broken bones. The stories in Everything Is Fine Now range from subtle supernatural tales to the legends you might hear sitting by a campfire. For adults, teenagers, and mature middle-grade readers.
Order from Amazon.
---
For more new book information go to the Books page.
"Late Sleepers," my day after Thanksgiving story, originally published in It Came From the Multiplex (ed. Josh Viola), has been performed by David Powell on PseudoPod #733. https://pseudopod.org/2020/11/27/pseudopod-733-late-sleepers/
read more