NEWS
StokerCon 2021
Links
A young man slowly surrenders his senses in "Bees from the Hive." Read for free at:  http://stevetem.com/free-fiction/
Wondering which of Steve's many short story collections to buy or just curious about the differences? You can find that info here.
You can now subscribe to the Steve Rasnic Tem YouTube Channel here.
For information about the Steve & Melanie Tem Collection at Texas A&M click here.
Biography
"His work…will haunt your imagination and your heart in equal measure, and it both expands and defines the genre. " Adam Mills, Weird Fiction Review
Steve Rasnic Tem's writing career spans over 40 years, including poetry, plays, short stories, and novels in the genres of fantasy, science fiction, horror, crime, regional fiction set in the Appalachian South, as well as a less-classifiable imaginative prose more than one critic has called "Temism." His collaborative novella with his late wife Melanie Tem, The Man On The Ceiling, won the World Fantasy, Bram Stoker, and International Horror Guild awards in 2001. He has also won the Bram Stoker, International Horror Guild, and British Fantasy Awards for his solo work. His recent novel UBO (Solaris, January 2017) is a dark science fictional tale about violence and its origins, featuring such historical viewpoint characters as Jack the Ripper, Stalin, and Heinrich Himmler. Steve's southern gothic novel Blood Kin (Solaris, March 2014), won the 2014 Bram Stoker Award. His other novels are  his YA The Mask Shop  of Doctor Blaack  (Hex, 2018), Deadfall Hotel (Solaris, 2012), The Man On The Ceiling (Wizards of the Coast Discoveries, 2008, written with Melanie Tem as an expansion of their novella), The Book of Days (Subterranean, 2002), Daughters (Grand Central, 2001, also written with Melanie Tem), and Excavation (Avon, 1987). A handbook on writing, Yours to Tell: Dialogues on the Art & Practice of Fiction, also written with Melanie, appeared in 2017 from Apex Books.
Steve has published over 450 short stories. His first collection of stories, Ombres sur la Route, was published by the French publisher Denoël in 1994. His first English language collection, City Fishing (Silver Salamander, 2000) won the International Horror Guild Award. His other story collections are The Far Side of the Lake (Ash Tree, 2001), In Concert (Centipede, 2010-collaborations with Melanie Tem), Ugly Behavior (New Pulp, 2012-noir fiction), Onion Songs (Chomu, 2013), Celestial Inventories (ChiZine, 2013), Twember (NewCon, 2013-science fiction), Here With The Shadows (Swan River Press, 2014), the giant 72-story treasury, Out of the Dark: A Storybook of Horrors, (Centipede Press), Figures Unseen: Selected Stories (Valancourt, 2018), The Harvest Child And Other Fantasies (Crossroads, 2018), the YA-oriented Everything Is Fine Now (Omnium Gatherum, 2019), and The Night Doctor and Other Tales (Centipede, 2019).
A transplanted Southerner from Lee County Virginia, Steve is a long-time resident of Colorado. He has a BA in English Education from VPI and a MA in Creative Writing from Colorado State, where he studied fiction under Warren Fine and poetry under Bill Tremblay.
Free Fiction
A young man slowly surrenders his senses in "Bees from the Hive," a tale of the strangely dependent and manipulative relationship of three friends. Read for free at:  http://stevetem.com/free-fiction/
"Late Sleepers," PseudoPod #733
"Forwarded," The Dark Magazine, January 2020
"The Family Man," Paper Butterfly Flash Fiction, October 2019
"For All His Eyes Can See," The Dark,  August 2018
"Miguel Prays While His Mother Cries," Daily Science Fiction, 8/8/2019
"Night Vision," Daily Science Fiction, 4/16/2019
"Red Rabbit," Borderlands # 6 (reprinted in Figures Unseen)
"The Men and Women of Rivendale," Nightmare #35.
"A Space of One's Own," Clarkesworld #141, June 2018.
"Cats, Dogs, & Other Creatures," Talebones.
---
See a complete list of free fiction on the Free Fiction page.
Latest Books
THE NIGHT DOCTOR And Other Tales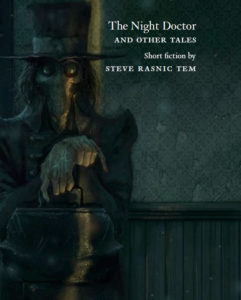 THE NIGHT DOCTOR AND OTHER TALES Steve's brand new collection from Centipede Press is on sale now. 25 stories including 2 originals. 336 pages, ribbon marker, handsome signature page, and attractive dustjacket by artist Gary Laib.  Purchase here: http://www.centipedepress.com/horror/nightdoctor.html
You can view a YouTube video of Steve reading the title story here.
Publishers Weekly starred review: "'Sometimes it takes all our effort to keep the anxiety of simply being human at bay' … Tem treads a fine line between the weird and the horrific in these stories, and they are memorable for their subtle power and insidious eeriness. This haunting collection is the perfect Halloween accompaniment."
John Boden at Ginger Nuts of Horror: "Every story in this collection is marvelous. All of them emotionally heavy and steeped in themes of loss, regret, grief (triple helpings on that one) and despair. All painted in lush realistically thick strokes and colors. All of them masterpieces."
Char's Horror Corner: "yet another excellent collection from the outstanding literary mind of Steve Rasnic Tem. Let him invite you – entice you, even -but don't expect to get too comfortable settling in, because the specialty here is exactly the opposite: UNSETTLING! My highest recommendation-especially to fans of the weird tales!"
FIGURES UNSEEN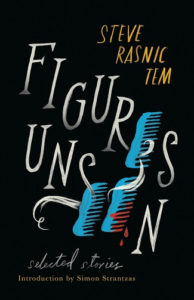 Winner of the World Fantasy, British Fantasy and Bram Stoker Awards, Steve Rasnic Tem has earned a reputation as one of the finest and most original short fiction writers of our time, blending elements of horror, dark fantasy, science fiction and surreal nightmare into a genre uniquely his own. This new volume collects for the first time thirty-five of Tem's best tales, selected by the author, and includes an introduction by Simon Strantzas.  "His writing deftly weaves together fantasy, horror, science fiction, and surrealistic weirdness into tales that are both frightening and beautiful … Consider this collection a must-read for aficionados of the surreal." Maria Haskins, Barnes & Noble Blog.
"It's a masterful collection. Story after story grabs you from the first sentence or image, shoehorns you effortlessly into familiar places you've never been, allows you into another life as it's coming apart or, perhaps, just coming to rest. These are sensuous tales, with gorgeously worked language and cadences. They breathe. Their hearts beat soundly beneath your own…The stories of Figures Unseen shimmer with beauty, with felt reality, and with the mysteries forever at the heart of all our lives." – James Sallis, The Magazine of Fantasy & Science Fiction
THE HARVEST CHILD AND OTHER FANTASIES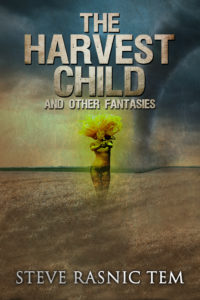 THE HARVEST CHILD And Other Fantasies is a massive collection of the wide range of Steve Rasnic Tem's fantasy tales. These 39 stories include sword & sorcery sagas, chronicles of fairies, elves, witches, wizards, magical creatures, Robin Hood, funny fantasy, and a smattering of science fantasy, as well as some uncollected dark fantasy tales which emphasize the fantasy over the horror. None have appeared in his previous collections. These fictions originally appeared in both major markets and hard-to-find small magazines. Just a sampling of sources: After Hours, Paradox, Asimov's, Dragon Magazine, Elsewhere, Infinite Loop, New Frontiers, Jabberwocky, Chrysalis, Grue, Mythellany, Fantasy Book, Extro, and Beneath Ceaseless Skies.
Order the paperback from Amazon.
Order the ebook from Amazon.
Order from Smashwords.
Order from Barnes and Noble.
 YOURS TO TELL:
Dialogues on the Art & Practice of Writing
(co-written with Melanie Tem)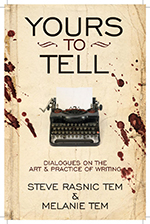 Steve Rasnic Tem and Melanie Tem are no strangers to the writing business. Between the two of them, they have published more than 600 short stories, 20 novels, and 10 short story collections. Not to mention numerous articles, essays, poems, and plays. They've won the World Fantasy Award, British Fantasy Award, and Bram Stoker Award. In this book they go over everything from the mechanics of writing, to how to find the time to write, to dealing with all the paper writers tend to collect. They discuss plot, point of view, setting, characterization, and more, all in an informal tone that invites you to become part of their conversation. Learn how to find your stories because they are Yours to Tell.
Order from Apex Book Company. 
 EVERYTHING IS FINE NOW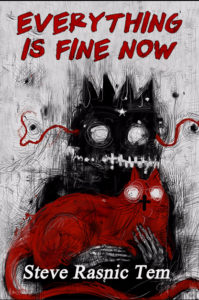 In this new collection award-winning horror author Steve Rasnic Tem showcases a variety of ghosts and other creatures aiming to keep you up all night with the lights on. Read about the two best friends chased by a strangely familiar figure. Or the teenager who woke up one morning with fur sprouting from every nook and cranny on his body. Or the fellow from a poor family who has to take care of both his little sister and his crazy mom whose magical powers only make things worse. Or an old man who finally tells his grandson the terrible thing that makes their crops grow. Or the mechanic who keeps his cars running on oil, gasoline, blood, and broken bones. The stories in Everything Is Fine Now range from subtle supernatural tales to the legends you might hear sitting by a campfire. For adults, teenagers, and mature middle-grade readers.
Order from Amazon.
For more new book information go to the Books page.
"Late Sleepers," my day after Thanksgiving story, originally published in It Came From the Multiplex (ed. Josh Viola), has been performed by David Powell on PseudoPod #733. https://pseudopod.org/2020/11/27/pseudopod-733-late-sleepers/
read more
Events
StokerCon 2021
---
See a complete list of events on the Events page.